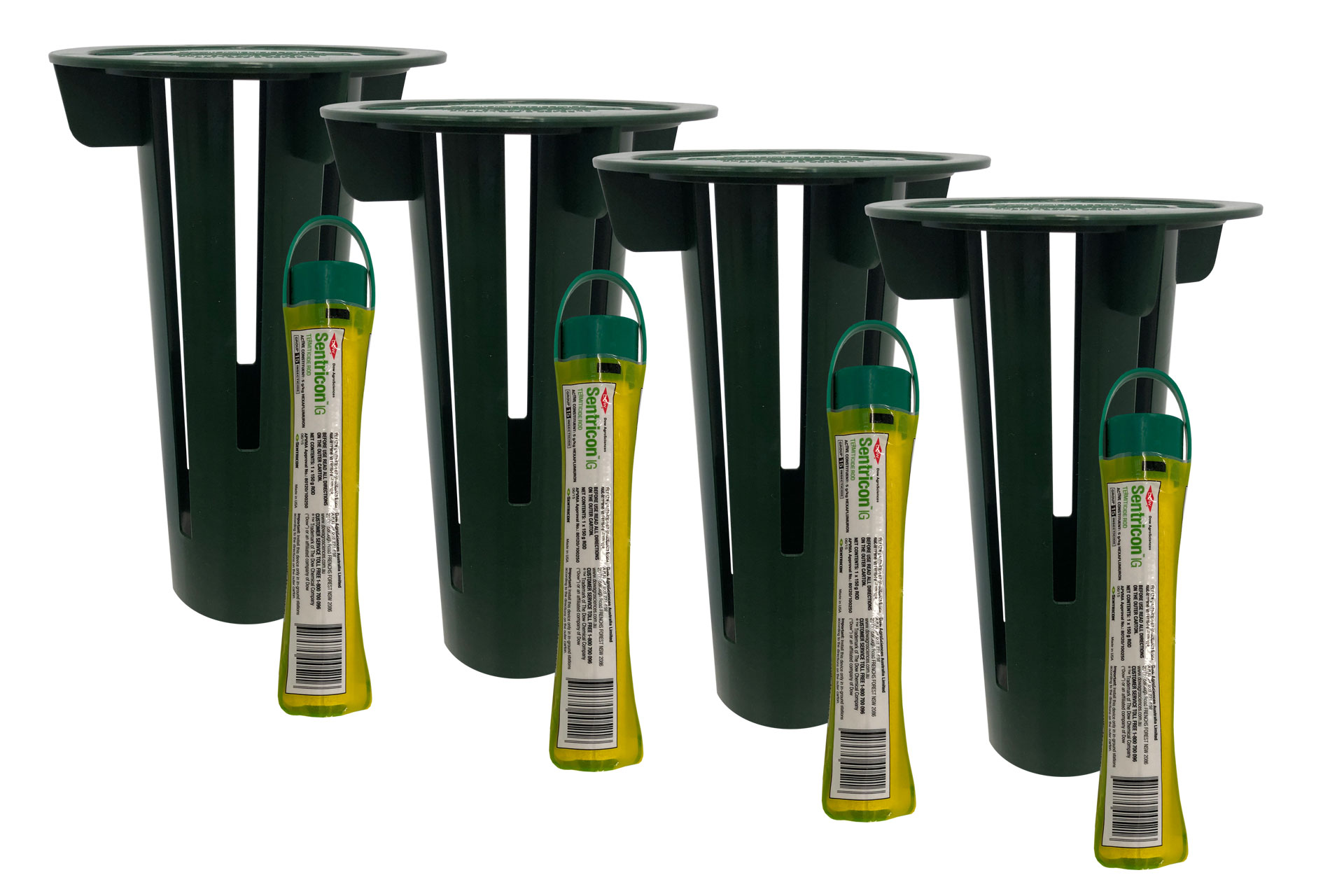 Sentricon 'Always Active' Termiticide Rods, are the innovation in termite protection that homeowners thought they were getting all along…
Confusing termite baiting system contracts designed to make the homeowner believe that once their termite baiting or monitoring system was installed, they had something protecting their home from termites. Well now its a reality, and if you don't have Sentricon 'Always Active' Rods installed in your current termite baiting/monitoring system, then you're not making the most of your termite baiting system.
Conventional Style termite baiting systems do not provide protection, unless they are being serviced and monitored on a regular basis. Conventional termite baits can be effective if correctly tended to by an experienced professional, but otherwise, they can simply provide a food source for termites to come closer to your home.
The 'Always Active' Rods reduce the human error element, which causes more problems than the conventional baiting process on it's own.
This quote courtesy of AEPMA, (Australian Environmental Pest Managers Association) says it all clearly in one short paragraph:
Newly registered, Sentricon™ AlwaysActive™ from Dow AgroSciences, delivers all the benefits of both a baiting system and a chemical barrier, with none of the drawbacks. Sentricon AlwaysActive controls termites from the day it's installed and has actually been shown to eliminate multiple termite colonies before the Pest Manager has even detected them.
The Sentricon 'Always Active' Rods replace archaic timber attractant materials used to attract foraging termites into a bait station, for secondary feeding with the introduction of a poison by a Termite Professional once termites have been identified in a bait station. It's a concept which seems to have been discounted until Sentricon's recent innovation.
The 'Always Active' Rods have been found to be more palatable and attractive than timber, with the added bonus of containing Hexaflumuron to destroy feeding termite colonies without needing to add more materials. So not only are termites more likely to be attracted to the stations containing the rods, but they automatically begin feeding on the very product that will destroy them.
At Termicure, we tested and tested the Sentricon Always Active Rods to see whether they were more palatable and more attractive to termites, and we found that in each of our 10 trial sites, the Termicure Stations containing the Always Active Rods were the first infested, every time. In some cases, (3) termites didn't infest any of the test stations however of the stations which were, the Sentricon Loaded Stations won hands down. We even used a variety of attractants from the biggest bait station manufacturers to encourage termites to the conventional baits. The Sentricon Always Active Rods need no additional attractants to come out on top.
Other manufacturers would have done clinical trials on the products, however no results have been made public that we could find, so I'm guessing the data has proven favourable to the Sentricon Rods.
In point form, the advantages of the Sentricon Rods over Conventional Termite Baits:
-Sentricon Always Active Rods can be retrofitted into most conventional termite Baiting Systems.
-The Always Active rods can kill termites colonies without any interaction from termite professional or homeowner.
-Always Active Rods attract termites faster than other conventional termite baiting materials.
-The Always Active Rods last up to 5 years unless depleted by termites.
-Always Active loaded termite baiting systems such as the Termicure Active product, require less maintenance than any of the conventional termite baiting systems.
-The use of the Sentricon Always Active Rods, deletes the need for a professional to feed a poison to termites in order to eradicate them. The poison is inbuilt in the Always Active Rods. Click here to purchase 'Always Active' rods.
If you have any questions on installing your own termite baiting system, or upgrading an existing one, then don't hesitate to contact us at info@termicure.com.au, or at 1300 2 TERMITE.