The Termite Management industry has managed to keep it's professional products 'exclusive' to industry professionals, which means that almost ALL DIY Termite Baits won't be supported by a termite professional, if you decide to seek professional help.
With multiple, DIY Termite Bait products available to the public for DIY, it's difficult to determine which products are tried and tested in the professional space. Termite Ninja, Enviro Bug, Termite Mansion, Green Baits, along with our Termicure range are all marketed for DIY use, but how does the homeowner know which ones are a viable, high quality option when even the professional products have been known to have quality problems with termite bait, and obtaining excellent feeding properties for termite colony eradication.
CHINA produces many products sold on the cheap in Australia, including termite bait. Unfortunately, while produced at low cost, many simply don't work, which is why the professionals only use certain products which are commercially available. DOW AgroScience is one of the most reputable research and development companies on the planet in the termite and insect management. Dow has developed the Sentricon 'Always Active' Termiticide Rods, which are combined with the Termicure 'Active' System, and used within it's own Sentricon Termite Bait Stations. The 'Always Active' termiticide Rods have revolutionised the process of termite baiting, by removing the active feeding phase. The 'Always Active' Rods contain the materials to attract AND Kill the termite colony, without the intervention of a professional to mix and apply a suitable termite Bait Matrix.
Sentricon has a huge following of Termite Professionals who have trained to install and manage the product. It is only available from select chemical suppliers such as Globe and Garrards to licensed professionals to keep the product exclusive. Ironically, while the 'Always Active' Rods are only commercially available to termite professionals, they are the most suitable termite baiting product for the DIY Termite Bait arena.
The development of the ALL IN ONE termite attractant/kill has removed the mixing and application stage from the termite eradication process, and even without checking or correctly servicing an installed 'Always Active' System, termites colonies are still able to be completely wiped out.
So before you go ahead and purchase a DIY Termite Bait from a very well marketed, but low quality DIY Termite Bait manufacturer, consider whether the products used, or the termite bait matrix supplied is commercially available to the professional termite market.
Termicure uses only Sentricon 'Always Active' Termiticide Rods for termite eradication, because it is the only product which is capable of eradicating an active termite colony without the full evolution of termite identification, bait matrix mixing and continual feeding. Even professionals don't succeed with colony eradication every time, with success rates as low as 50%. Human error, poor quality bait products and bait matrix contamination are all major factors which contribute to the failure. The 'Always Active' termiticide rods remove all of the risk factors associated with human error, resulting in a far higher success rate.
So do your research on the products available with all of the DIY Termite Bait products before you buy…
Our recommendation is that only the products available to the professional market are going to be the reliable and consistent option.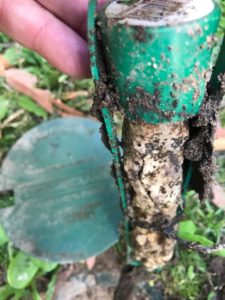 Sentricon has been in the termite baiting market for decades, and has an excellent track record. The Sentricon 'Always Active' rods have been a game changer. The Sentricon termite bait stations are restrictive in that they are only able to contain ONE termiticide rod.
An advantage of the Termicure Termite Bait Stations for DIY Termite Bait use, is the ability to multi load the stations. This can be helpful when feeding termites have been located in a station, and an additional rod can be added so that there is no chance that a full rod can be consumed and then termites vacate the station before termite colony destruction.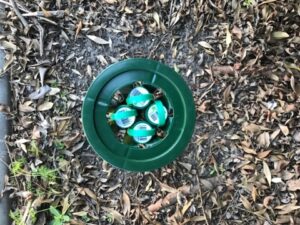 There are many termite DIY Termite Bait systems available, but surprisingly, there are far fewer professional systems available, as professionals know that the products MUST be of a high quality to achieve colony control.
So, don't be sold on the best marketed DIY Termite Bait System…. do your research nd stick with a product which is backed by a professional product.
For purchases, please click here.