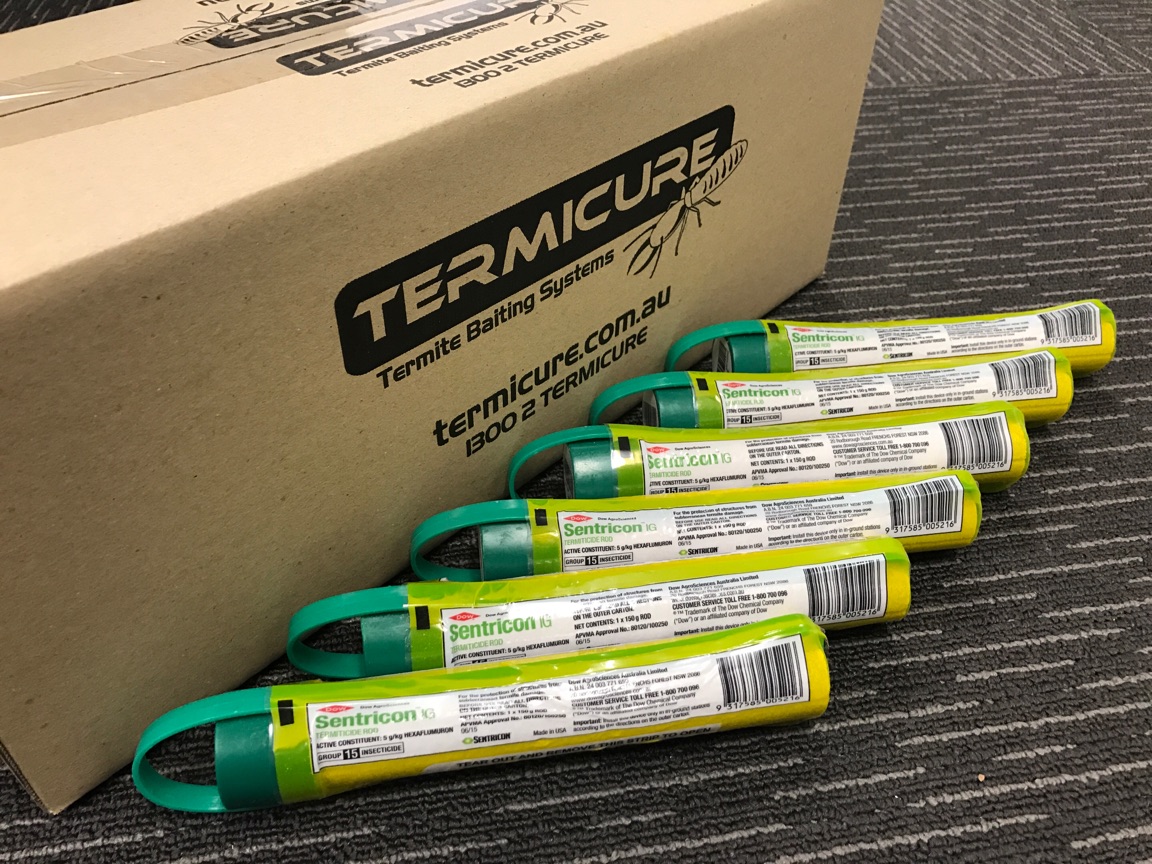 The professional termite management market determines what products are the best, and which ones simply don't work.
At Termicure, we don't attempt to re invent the wheel by producing new products in an attempt to revolutionise the termite management industry. Multinationals such as DowAgroScience, and Sherwood Chemicals spend Millions of dollars on developing products which provide Termite Professionals with the results required by the industry.
Unfortunately, most of the other DIY Termite Bait manufacturers (no names here) race off to China, and have a cheap termite baiting product produced, without the R & D required. In short, EVERY SINGLE DIY TERMITE BAIT product we tested, simply wasn't consumed by attacking termites. What this means is that if Termites won't take the bait, then the colony will continue feeding and spreading, and the homeowner is wasting their time and money.
At Termicure, we simply take existing products, and develop a system which simplifies the processes to make it suitable for the homeowner to successfully protect or eradicate termites from their property. WE ONLY USE COMMERCIALLY AVAILABLE, PROFESSIONALLY TESTED AND PROVEN PRODUCTS. That's right, all of the bait products we sell to you, are used in vast quantities by the Professional Termite Industry.
The Sentricon 'Always Active' Rods which we have integrated into our Termicure 'Active' Packs are an extremely effective and commercially proven beyond any doubt. The Sentricon 'Always Active' Termiticide Rods changed the industry, and dramatically increased the success of termite baiting in Australia. That's why we've integrated the 'Always Active' Rods into our ingrained station packs.
Termatrix Termite Bait is also a high end Termite Bait Matrix used by Thousands of termite professionals every day. We've integrated them into our Live Termite Treatment Packs and simply changed the delivery method to allow for easy mixing and application in small volumes. In most cases, Termite Professionals are mixing bait matrix in larger quantities which are not practical for the homeowner, so we just created a user friendly option for DIY Termite Baiting.
Both of these products are extremely successful and proven, throughout the professional termite industry. We've combined our bait stations and extensive experience to simplify the processes to enable successful termite baiting by the homeowner.
Our technical team carries multi state termite professional qualification, and is available to assist your needs in successful DIY Termite Treatment. if you would like to speak with our technical support team, call 1300 283 764 or email direct at info@termicure.com.au